Too Many Assignments Due Calendar
Use the Mastering assignments calendar
Setting dates for assignments even before students enroll provides the advantage of displaying all assignments in the Mastering Gradebook, and enabling you to align the total points for Mastering assignments with your syllabus. For considerations about availability dates, see Make an assignment available to students.
Note: Only the following kinds of assignments appear in the calendar: standard Mastering assignments, Adaptive Follow-Up assignments, and Dynamic Study Module assignments. Scores for Offline Activities and Learning Catalytics sessions can be included in the Mastering Gradebook, but they cannot be added to the calendar.
Unless indicated otherwise, you can complete all of the following tasks from the calendar that appears on the Mastering Course Home or the Assignments tab.
Schedule or delete an assignment

To schedule an assignment (Assignments tab only)
If necessary, advance the calendar to the month in which you want one or more assignments to be due.

Drag an undated assignment onto the calendar, to the date the assignment will be due.

Assignments with dates appear at the top of the list in chronological order, followed by undated assignments in alphabetical order. An undated assignment displays dashes instead of a date. When you point to any listed assignment, your pointer changes to a move icon, often a 4-pointed arrow. View an image

Accept or edit the time the assignment is Due on the selected date, and, if applicable, the From and Until dates and times for availability to students for work or review. View an image

The default availability dates and times are:

Due Time = 11:59 pm in the time zone specified in the course settings for this course. If students are in different time zones, caution them to observe this deadline time, not their local time.

From = One week before the due date and time.
Until = Last day of the term. Consider accepting this date so students can review the assignment later.

To reschedule an assignment
Use either of the methods described in the following table.

An Adaptive Follow-Up assignment is automatically rescheduled when you drag its Parent assignment to a new due date.
Method
Advantage
Drag an assignment from its current due date to a new due date in the same month.

Quick and easy from either the Course Home or the Assignments Calendar View.

You might do this if your due dates should be Tuesdays and Thursdays, and you are using a copy of a course that has due dates in the same term on Mondays and Wednesdays.

Assignments Calendar View only

Advance the calendar to a different month to which you want to move the assignment.
Drag the assignment from the list on the left to the new due date.

You can drag an assignment to a date several months away from the original date.

You might do this if you have copied a course with assignment dates from a previous term.

To delete an assignment (Assignments tab only)
From the actions menu, click Delete Assignment. If the assignment has an Adaptive Follow-Up, the Follow-Up will be deleted, as well. If you want to retain the assignment, but delete only the Follow-Up, click Delete Adaptive Follow-Up.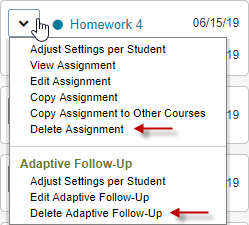 Important: If you are working with a copied course, be sure to delete any regular assignments that you don't intend to use in the new course. Doing so eliminates the possibility of inadvertently sequestering items in those assignments.
Examine assignments from a calendar or list view

To check assignment properties, status, and category
Colored shading on the calendar distinguishes among assignments that are not yet due and those that are past due as follows:
Not yet due standard Mastering assignment, Adaptive Follow-Up assignment, or Dynamic Study Module assignment
Past due assignment of any type
For details, point to an assignment on the calendar to display the information described below.
The full title of the assignment
Password and time limit icons, if you have specified these settings
The due date and time in the time zone for the course
Status of Available or Unavailable, which shows whether students can see the assignment now as you are viewing the calendar
Availability dates when the students can see the assignment to complete it or review it later
Category of the assignment

For specialized assignments, the same data is displayed, with minor differences:

Adaptive Follow-Up assignment: Availability dates begin when the Parent assignment is complete or the due date/time passes, and the category is always Adaptive.

Dynamic Study Module assignment: Is always available to students, and the category is always Dynamic Study Module.

To switch to the List View (Assignments tab only)
Click List View above the calendar. On the List View you can:
Sort all assignments in the course by #, title, category, or due date/time
Drag assignments into a different sequence and then edit dates
About student assignment access
Students can begin working on assignments as soon as you make them available in the course.

How students access assignments from the Course Home
Students can easily check for and open available assignments from their Course Home. (Unlike instructors, student view no longer provides an Assignments tab.) Depending on their preference, students can choose between a list or calendar view of assignments.
The student List View option (the default) organizes assignments in the sections Past Due Assignments, Upcoming Assignments, and Completed Assignments. Students can open available assignments and check their completion status for assignments listed within these sections.
The student Calendar View option provides both a monthly calendar (with assignments indicated on due dates) and a daily agenda (to the right of the monthly calendar). For today's date, the daily agenda may show a message like "Nothing due today", "Next assignment due in x days", or "2 assignments due in 5 days". Students can also open available assignments and check their completion status from the daily agenda.
For more about the student Course Home and assignment experience, check out the Mastering Help for students.
See also:
Create a new assignment | Add/Edit an Adaptive Follow-Up | Edit dates for multiple assignments
Copyright © 2018Pearson Education, Inc. All Rights Reserved. Pearson Higher Education | End User License Agreement | Privacy Policy | Permissions | Accessibility
Mary, the "Remind me" date does not show in the Teacher's calendar in my Moodle.  (Moodle 3.3+ (Build: 20170601), Boost.)  Should I post this in Tracker as a new "Bug," or should my previous Tracker item be reopened?
This issue (problem) is going to take a lot more thought.  What I see is a transition into "Reminders" with this new "Remind me" date that right now seems to be only in the Assignments activity.  However, if Moodle starts doing this, then these "Remind me" dates might eventually make their way into every Moodle "Activity."
Yep, how should Moodle handle "reminders" and "notifications?"  
My current belief is that reminders should be handled differently than "Due Dates."  These are two separate instructional needs.  Additionally, it is the Activity Due Date that should automatically go into the Calendar, and this feature should be in available in every Activity because Due Dates commonly signal the end of an "activity" (meaning, no more activity.)
So, the removal of the Assignment Due Date from the Teacher's Calendar is an oversight of the bigger issue -- consistently handing Due Dates while providing a Reminder feature.
Sure, maybe some would simply set the "Reminder Date" to be equal to the Due Date (and this would quickly satisfy me,) however, one might want multiple reminders, such as: "Remind me to send assignment due reminder to students," "Remind me to inform students that this assignment is due tonight," "Remind me to remind my teaching assistant to grade this assignment," and "Remind me to double check that the TA has finished grading," shows how complex reminders might become.  And I certainly agree that notifications are an important feature to moodle and needs much more thought and development.  There are many "reminders" that instructors might want for other Activities too; "Remind me to grade open-ended quizzes," "Remind me to grade forum posts," etc.  I don't think these reminders will work well from within the creation or editing of Activities, they are better somehow handled in the Calendar.

But getting back to Due Dates, every Moodle Activity should provide for a Due Date and it is this date that should show in the Moodle Calendar.  A teacher should not have to switch to student-view to see student due dates.
As you and others can see, starting to put "Reminders" into moodle is going to require a lot more thought.  I give credit to those who were involved in the decision to include reminders into Assignments, but having it replace the Due Date in the Calendar seems a little short-sighted.
So, what are your thoughts moving forward?